We are delighted to announce that for the second consecutive year, Sirvoy has been recognised as a 2019 FrontRunner by Gartner's Software Advice. FrontRunner is an invaluable tool which helps SME's evaluate which software is the best option for their business.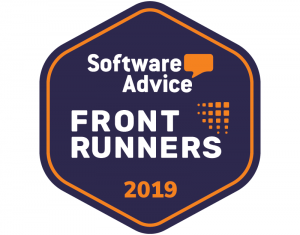 When calculating scores Gartner studies end user reviews and other product data, positioning the top scoring products based on usability and user recommendations.
"Our primary goal is customer satisfaction so this acknowledgement proves that the time, dedication and energy that Sirvoy as a company has invested into both the system and its support has fulfilled its main aim and we are enormously proud to be leading the way in hospitality management software" says Mats Persson, director of Sirvoy Ltd.
"I'd like to take this opportunity to thank all of our partners for leaving their reviews, without which this distinction wouldn't have been possible. By incorporating customer feedback into our strategy and development we aim to continue delivering a PMS solution that will help our clients to grow their business and support their initiatives" he continues.
"…we are enormously proud to be leading the way in hospitality management software"
About Sirvoy
Sirvoy is a global market leader in hospitality management solutions, providing hotels, hostels, B&B's and guesthouses with a robust, scaleable and innovative software that is easy to use and and simple to implement. For more information, visit www.sirvoy.com.
About Software Advice
Software Advice is the leading online service for businesses navigating the software selection process. Advisors provide free, personalized software recommendations, helping companies of all sizes find products that meet their business needs. Software Advice also features objective research by industry experts and reviews from validated users, saving buyers time and resources. Software Advice is a Gartner company. For more information, visit http://www.softwareadvice.com
Disclaimer
FrontRunners constitute the subjective opinions of individual end-user reviews, ratings, and data applied against a documented methodology; they neither represent the views of, nor constitute an endorsement by, Software Advice or its affiliates.