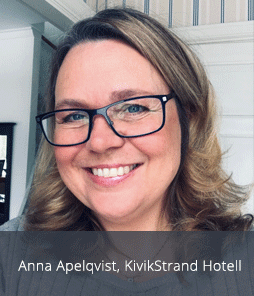 Sloping towards the sea, and surrounded by apple orchards, lies charming Kivik – a summer idyll on Österlen in the south of Sweden. Along the promenade we meet Anna Apelquist who, together with her husband, runs Kivikstrand Hotel. Spring is in the air and with the approach of summer comes their busy season. They have much to prepare, but Anna willingly takes the time to answer our questions.
This beautiful house hasn't always been a hotel. How did it all begin?
We bought the house in 2005 and started to run it as a hostel. Little by little we renovated the rooms and for some time it was a B&B. Finally, we reached hotel standard, which has been our goal right from the beginning. We now have 13 rooms and 30 beds and four years ago we opened the restaurant.
What have you found to be the biggest challenge?
It is an industry where profit is usually low. Our biggest challenge is the short season and the difficulty of finding seasonal staff. You earn all your money in just a few months and the rest of the year is spent in preparation for everything to be put right. It is also a challenge that laws and regulations change frequently.
What is your strategy for getting as many bookings as possible?
I use many sales channels, I did that from the very beginning. Obviously you want as many as possible to sell your product. The more selling agents the better! At the same time, the website is crucially important. More than 50% of the bookings are gained directly through our website and this way we avoid paying commission to the channels.
Are there any disadvantages of using many sales channels?
In the beginning there was. When I started using sales channels, it was very stressful. I went down the paper and pen route and always risked getting double bookings. I had a calendar and managed everything manually but when I got myself a proper booking system everything became much easier. I started using Sirvoy in 2016. The stress disappeared, I saved a lot of time and I could make all the rooms available. When I switched to Sirvoy I saw an instant increase of 10-15% and I'm not afraid of double bookings anymore.

Was it difficult to get started and set up a booking system like Sirvoy?
No not at all! In just a few hours you have Sirvoy up and running, in another 1-2 days you have got a nice page with good texts and pictures. My advice is to try it properly and to go for the Pro version with the channels immediately. It really does pay off to have as many as possible sell your products. Be fearless! It's a simple system, a 13 year old could set up Sirvoy.
Do you have any advice to others in the hospitality industry?
Yes, a small but important thing. You can learn a lot by analyzing the statistics. In Sirvoy, I easily see how and when bookings were received in previous years. It helps me adjust the prices effectively for the coming season. Before Sirvoy, it took me half a day, now it only takes minutes.
And one more thing. There are those who are just thinking about minimizing costs. Let it go and have courage.
"You have such a feeling of pride when you see and experience your hotels success", are Anna's closing words before she continues her preparations.
And successful it is sure to be! High season is coming and guests from all over the world will experience the wonderful atmosphere at Österlen and enjoy their stay at the beautiful Kivikstrand hotel.
"It's a little closer to heaven here", is a saying on Österlen. As we walk back along the seafront with flowering apple trees by our side, it is easy to agree.